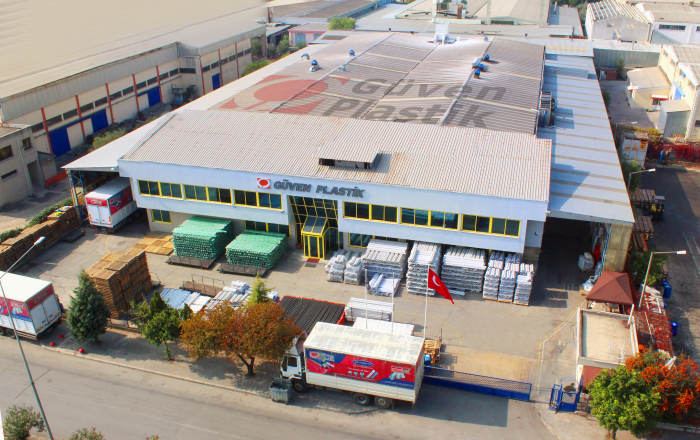 Guven Plastic has been a pioneer directing the sector since the 1960's and conducting its business in Izmir Ataturk Organized Industry Zone. Guven Plastic exports over 20 countries, renew itself by using high technology machines with an innovative approach.
Our firm adopts quality, services and customer satisfaction as its core principle and tries to offer vintage products at reasonable prices.
Guven Plastic development process starts in 1960's with matt hose production and progresses by adding PVC pipes, construction products and fittings in early 90's.In the begining of 2000 firm focused more on construction and plumming materials, sewage pipes and inserts and accomplished great success in process.
In 2014 Guven Plastic started the very first Evapool (pool-sweeper) hose production in Turkey.
By 2016 firm established its plastic strap production facility as Tanpak Packaging Industry and Trade Ltd Şti in Aliaga Organized Industrial Zone to answer sector needs and offer quality solutions.Production line involves Polyester (PET) Strappings,Polyproplene (PP) Strappings and Polyester Cord Strappings.
Guven Plastic is a trustworthy organisation and tries to keep this characteristic in the present and future endeavours. As an organisation our main aim is to serve better for our customers by manufacturing high quality products and a successful services understanding.
Manufacture quality and innovative products to create customer satisfaction with solid, dependable and accessible product line.
Reach to perfection with advanced technology